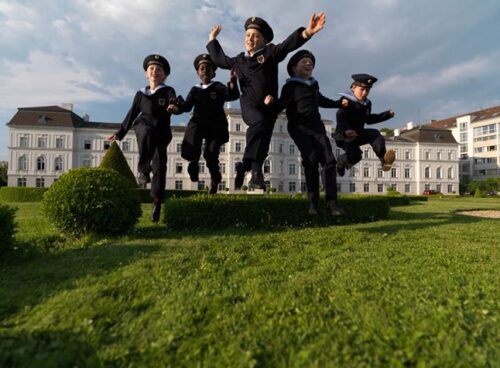 The Vienna Boys Choir performs with major orchestras, such as the Vienna Philharmonic Orchestra, the Vienna Symphony Orchestra, the Staatskapelle Berlin, the Oslo Philharmonic, the Pittsburgh Symphony Orchestra, conducted by Riccardo Muti (honorary member of the Chapel Imperial), Andrés Orozco Estrada, Christian Thielemann, Simone Young. A particular highlight are the appearances at the Vienna Philharmonic Orchestra's New Year's Concert. In 2012 and 2016, the boys performed under the baton of Mariss Jansons.
Boys have been singing at Vienna's Imperial Chapel since 1296. In 1498, Maximilian I (HRR) moved his court to Vienna, lock, stock, and choir, thus founding the "Hofmusikkapelle" (Chapel Imperial), and the Vienna Boys Choir. Over the centuries, the Viennese Court attracted great musicians like Isaac, de Monte, Fux, Caldara, Gluck, Salieri, Mozart, and Bruckner; Joseph Haydn, Michael Haydn, and Franz Schubert were themselves choir boys. Until 1918, the boys sang exclusively for the court. In the 1920s, the choir was re-established as a private organisation. Since 1926, 2482 Vienna Boys Choir has sung 1000 tours in 97 different countries. Gerald Wirth is the its Artistic Director, and its president.
Today, there are 100 choristers between the ages of nine and fourteen, divided into four touring choirs. Each choir spends nine to eleven weeks of the academic year on tour. Together, the choirs give around 300 concerts each year, attended by almost half a million spectators around the world. The choir regularly tours Europe, Asia and Australia, and the Americas. The choir's first journey to Chile to place in 1936.
On Sundays, the boys perform with members of the Vienna Philharmonic Orchestra and of the Vienna State Opera Chorus in Vienna's Imperial Chapel, as they have done since 1498. In 2012, the choir opened its own concert hall, MuTh; the state-of-the art facility seats 400 and has proven highly popular with both artists and audience.
The choir's repertoire includes everything from medieval to contemporary music. Motets and lieder form the core of the touring repertoire, as do the choir's own arrangements of Viennese music. The choir also performs children's operas and world music.
The first ever sound recording of the choir was made on a wax cylinder in 1907; since then, the boys have recorded 43 shellacks, 55 singles, 128 LPs and 150 CDs on every major label. In 2015, the choir signed a longterm deal with Deutsche Grammophon. A CD of holiday music was released in 2015, a CD offering a selection of music by Strauss followed in 2018. 26 films and 17 TV documentaries attest to the choir's international appeal.
Vienna Boys Choir – Paprika

Vienna Boys Choir – Stille Nacht (Silent Night)
Vienna Boys Choir – Gaudete