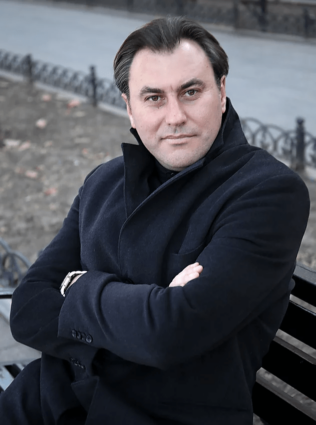 The baritone Vitaliy Bilyy has an impressive international career. He has performed at some of the most prominent opera houses in the world, including the Royal Opera House Covent Garden, Opéra National de Paris, Metropolitan Opera in New York, Wiener Staatsoper, Bolshoi Theatre in Moscow, Bayerische Staatsoper in Munich, Grand Théâtre de Genève, Teatro alla Scala in Milan, San Francisco Opera, Los Angeles Opera and Staatsoper Hamburg.
RECENT AND FUTURE HIGHLIGHTS
Vitaliy Bilyy has recently performed among others:
Germont/La Traviata at Los Angeles Opera;
Don Carlo De Vargas/La forza del destino at Ópera Nacional de Chile

, Santiago

;
Amonasro/Aida at Soirées Lyriques de Sanxay;
Renato/Ein Maskenball at Internationale Maifestspiele

, Wiesbaden;

a concert of Verdi works with Diana Damrau and Münchner Rundfunkorchester.
The artist has also sung at the Elena Obraztsova Opera Ball (Gala Concert of the World Opera Stars) at The Bolshoi Theatre.
Bilyy's future highlights include:
Escamillo/Carmen at Teatro dell'Opera di Roma;
the title roles of Macbeth, Nabucco and Andrea Chénier at Ópera Nacional de Chile

, Santiago.
Season 2018/2019
In the 2018/19 season, Vitaliy Bilyy made his debut at the Los Angeles Opera as Germont in La Traviata. He also debuted as Enrico in Lucia di Lammermoor at the Teatro Verdi in Salerno and Teatro de la Maestranza in Seville, and as Renato in Un ballo in maschera at the Staatstheater Wiesbaden.
Season 2017/2018
In the 2017/18 season, Bilyy sang Germont/La Traviata at the Opéra National de Paris and Opera Australia, Il Conte di Luna/Il Trovatore in Paris, Amonasro in  at the Teatro Municipal de Santiago in Chile, and the title role in Macbeth at the Théâtre du Capitole in Toulouse.
Season 2016/2017
In the 2016/17 season, Vitaliy Bilyy made his debut at the Royal Opera House, Covent Garden as Il Conte di Luna/Il trovatore, returned to the Semperoper Dresden as Germont, and sang Alfio/Cavalleria Rusticana at the Opéra National de Paris, Don Carlo/Ernani and Enrico/Lucia di Lammermoor at the Théâtre du Capitole in Toulouse, and Escamillo/Carmen at the Bayerische Staatsoper and Staatsoper Hamburg. He also reprised his role as Il Conte di Luna at the Teatro di San Carlo in Naples.
Career Highlights from Previous Seasons
Since 1997, Vitaliy had many concerts and touring as soloist of the Odessa State Choir, and in 2000 he has begun his career as an opera singer. The famous Odessa Opera and Ballet Theater was the debut stage, where Vitaliy has performed Giorgio Germont/La Traviata for the first time.
For a short period in the same theatre the young baritone sang in operas by Donizetti and Tchaikovsky, such as: Ibn-Hakia/Iolanta, the title role of Eugen Onegin, Enrico/Lucia di Lammermoore.
His international career began in 2004.
Vitaliy Billy played Renato/Un Ballo in Maschera at the Capitole in Toulouse, Paolo/Simon Boccanegra, Il Count di Luna/Il trovatore and Miller/Luisa Miller at La Scala in Milan, and Yeletsky/The Queen of Spades at the Rome Opera. He performed at Luisa Miller at the San Francisco Opera, and then sang Il Trovatore at the Metropolitan Opera, Escamillo/Carmen and Giorgio Germont/La Traviata at the Hamburg Staatsoper. He made his debut at the Paris Opera and the Dresden Semperoper in Il Trovatore.
In recent years, Vitaliy Bilyy has performed many roles at the Metropolitan Opera, including Il Count di Luna, Rodrigo/Don Carlos, Giorgio Germont/La Traviata, and Shaklovity in Mussorgsky's Khovanshchina.
Vitaliy Bilyy is a graduate of the Odessa State Conservatory named after A.V.Nezhdanova, where he has got education in two specialties: Choir Conductor and Opera Singing.
Bilyy has received numerous awards at various competitions including Plácido Domingo's Operalia, the Elena Obraztsova International Competition, the Francisco Viñas International Singing Contest and the Montserrat Caballé International Singing Competition.
OPERA                                                                                                                                                                               



Bellini, V.
I puritani
Sir Ricardo Forth
Bizet, G.
Carmen
Escamilio
Les pecheurs de Perles
Zurga
Catalani, A.
La Wally
Vincenzo Gellner
Donizetti, G.
Lucia di Lammermoor
Enrico
Giordano, U.
Andrea Chénier
Andrea Chénier
Leoncavallo, R.
Pagliacci
Silvio
Mascagni, P.
Cavalleria Rusticana
Alfio
Musorgsky, M.
Boris Godunov
Rangoni
Khovanshchina
Shaklovity
Prokofiev, S.
War and Peace
Colonel Vasska Denisov
Puccini, G.
La bohème
Marcello
Rimsky-Korsakov, N.
The Snow Maiden
Gryaznoy
The Tsar's Bride
Mizgir
Tchaikovsky, P.I.
Iolanta
Ibenhakia, Rober
The Maid of Orleans
Lionel
The Queen of Spades
Prince Yeletsky
Eugene Onegin
Eugene Onegin
Verdi, G.
Aida
Amonasro
Attila
Ezio
Don Carlo
Rodrigo
Ernani
Don Carlo
Il trovatore
Conte di Luna
La Forza del Destino
Don Carlos
La Traviata
George Germont
Luisa Miller
Miller
Macbeth
Macbeth
Nabucco
Nabucco
Simon Boccanegra
Paolo Albiani
Un Ballo in Maschera
Renato
CONCERT

Rakhmaninov, S.
Bells
Spring
Tchaikovsky, P.I.
Moscow
Vitaliy Bilyy – Macbeth by G.Verdi – "Perfidi!….Pieta…" – Theatre du Capitol (Toulouse), 2018
Vitaliy Bilyy – Il Trovatore by G.Verdi – "Tutto è deserto…Il balen del suo sorriso" – Teatro San Carlo, 2017
La Traviata, G.Verdi, Opera Australia, March 2018