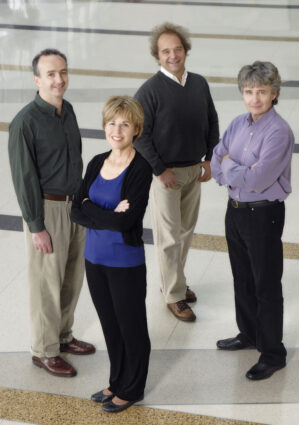 Edward Dusinberre (violin), Károly Schranz (violin), Geraldine Walther (viola) and András Fejér (cello).
Recognized as one of the world's great ensembles, the Takács Quartet plays with a unique blend of drama, warmth and humor, combining four distinct musical personalities to bring fresh insights to the string quartet repertoire.
Based in Boulder at the University of Colorado, the Takács Quartet performs ninety concerts a year worldwide, throughout Europe as well as in Australia, New Zealand, Japan and South Korea.
The Quartet's award-winning recordings include the complete Beethoven Cycle on the Decca label. In 2005 the Quartet won Disc of the Year and Chamber Award from BBC Music Magazine, a Gramophone Award and a Japanese Record Academy Award. Their recordings of the early and middle Beethoven quartets collected a Grammy, another Gramophone Award, a Chamber Music of America Award and two further awards from the Japanese Recording Academy.
In 2006 the Takács Quartet made their first recording for Hyperion Records, of Schubert's D804 and D810. A disc featuring Brahms' Piano Quintet with Stephen Hough was released to great acclaim in November 2007 and was subsequently nominated for a Grammy. Brahms' Quartets Op. 51 and Op. 67 was released in the Fall of 2008 and a disc featuring the Schumann Piano Quintet with Marc-Andre Hamelin will be released in late 2009.  The complete Haydn "Apponyi" Quartets, Op. 71 and 74, will be released in early 2011.
The Quartet has also made sixteen recordings for the Decca label since 1988 of works by Beethoven, Bartok, Borodin, Brahms, Chausson, Dvorak, Haydn, Mozart, Schubert and Smetana with several Grammy nominations.
The quartet is known for innovative programming. In 2007 it performed, with Academy Award–winning actor Philip Seymour Hoffman, "Everyman" in Carnegie Hall, inspired by the Philip Roth novel. The group collaborates regularly with the Hungarian folk ensemble Muzsikas, performing a program that explores the folk sources of Bartok's music. The Takács performed a music and poetry program on a fourteen city US tour with the poet Robert Pinsky.
The Takács Quartet was formed in 1975 at the Franz Liszt Academy in Budapest by Gabor Takács-Nagy, Károly Schranz, Gabor Ormai and András Fejér, while all four were students. It first received international attention in 1977, winning First Prize and the Critics' Prize at the International String Quartet Competition in Evian, France. The Quartet also won the Gold Medal at the 1978 Portsmouth and Bordeaux Competitions and First Prizes at the Budapest International String Quartet Competition in 1978 and the Bratislava Competition in 1981. The Quartet made its North American debut tour in 1982. Violinist Edward Dusinberre joined the Quartet in 1993 and violist Roger Tapping in 1995. Violist Geraldine Walther replaced Mr. Tapping in 2005. In 2001 the Takács Quartet was awarded the Order of Merit of the Knight's Cross of the Republic of Hungary.
Copy Past repertoire here
Concert, Queen Elizabeth Hall
Schubert's "Death and the Maiden" Quartet
John Innes Centre, Norwich
Performance, Duke University 
Performance, Rackham Auditorium