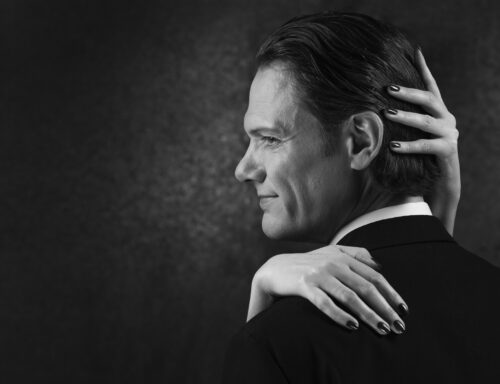 Palle Knudsen is a Lyric Baritone with beautiful tone and great acting capabilities.
RECENT AND FUTURE ENGAGEMENTS
Recent and future engagements include among others:
the title role in Don Giovanni at Israeli Opera, Tel Aviv;
Marcello/La Boheme, Papageno/The Magic Flute, Sharpless/Madama Butterfly, Dr Falke/Flagermusen and Ping/Turandot and Royal Danish Opera, where he also featured roles in Carmen, Sweeney Todd and Ariadne auf Naxos;
Vaughan Williams' Dona nobis pacem and Mahler's Lieder eines fahrenden Gesellen at Aarhus Symfoniorkester.
Palle Knudsen graduated from the Royal Opera Academy in 1998 and in 1999 he became a member of the soloist ensemble at The Royal Opera in Copenhagen where he saw great success in his first season performing as Papageno in Mozart's The Magic Flute.
Career Highlights from Previous Seasons
Some notable engagements include Motorcycle Cop/Dead Man Walking, Sparbüchsenbill/Aufstieg und Fall der Stadt Mahagonny, Marcello/La bohème, Il conte Almaviva/Le nozze di Figaro, Ottokar/Der Freischutz, Giorgio Germont/La traviata, Roberto/I vespri siciliani, En magister/Maskarade, Pelleas/ Pelleas et Mélisande, Wolfram/ Tannhäuser, Silvio/I Pagliacci at Royal Danish Opera, The Pearl Fishers and I Puritani with star tenor Lawrence Brownlee and L'elisir d'amore at the Tivoli Concert Hall, also Don Giovanni at Theater St. Gallen.
From his debut until today Mr. Knudsen has sung roles such as Ping/Turandot, Figaro/Il Barbiere di Sevilla, Don Giovanni, Lord Sidney/Il viaggio a Reims, Achilla/Giulio Cesare, Ned Keene/Peter Grimes, Pantalone/L'armour des trois oranges, Dandini/La Cenerentola, Eisenstein/Die Fledermaus, Danilo/Die Lustige Witwe, Harlekin/Ariadne auf Naxos, Papageno/Die Zauberflöte, Il Conte/Le nozze di Figaro, Guglielmo/Così fan tutte, Silvio/Pagliacci, Germont/La Traviata, Mercutio/Roméo et Juliette, the title role of Orphée/Philip Glass, Marcello/La bohème (with a.o. Anna Netrebko) and Zurga/Les pêcheurs de perles.
In 1999 Palle Knudsen toured with La Monnaie in New York and Paris singing Apollo/Orfeo. I 2003 he sang Don Giovanni and Guglielmo/Così fan tutte at the Glimmerglass Opera in New York, a role repeated in Pittsburg Opera in 2006 and as Belcore/L'elisir in 2007. Palle has also sung Pelleas/Pelléas et Mélisande at Opera Holland Park, London; Achilla/Giulio Cesare at Royal Albert Hall as well as Bill/Dancer in the Dark with The Royal Opera, Copenhagen, at the Lincoln Center, New York. Besides this he has sung concerts in The Royal Palace in Stockholm, the Philharmonie in St. Petersburg, the Opera in Hanoi (Vietnam), and Pest Vigad in Budapest.
Palle Knudsen has worked with a number of famous conductors such as René Jacobs, Adam Fischer, Manfred Honeck, Giancarlo Andretta, Marc Soustrot, Peter Schreier, Okko Kamu, John Mauceri and Heinz Fricke. He appears regularly as a concert singer in masses and oratorios and is a frequently used as a soloist with Scandinavian orchestras.
Besides several opera engagements Palle Knudsen regularly performs as a concert singer. This includes Carmina Burana and soloist in Athens, Birmingham and Dublin on tour with the Danish National Radio Symphony Orchestra in Philip Glass's 5th symphony, Britten's The Rescue of Penelope with Collegium Musicum, Händel's Messiah with Malmö Symphony Orchestra, Telemann's Weihnacht Cantate and J.S. Bach's Weihnacht-Oratorium with Aarhus Symphony Orchestra as well as the Copenhagen Philharmonic Orchestra and Fauré's Requiem with South Jutland Symphony Orchestra. At the Gewandhaus, Leipzig he performed Niels W. Gade's The Elf King's Daughter.
Discography
On CD he has recorded Six Orchestral Songs by Grieg on Naxos and a DVD with Händel's Giulio Cesare (Archilla) with Lars Ulrich Mortensen on Harmonia Mundi. In 2009/10 a DVD with Händel's Partenope(Ormonte) was released on Decca and in 2011 Ruders' Selma Jezkova (Dancer in the Dark) was released on Dacapo. In May 2013 Poul Schierbeck's Fête Galante with Palle Knudsen was released on Dacapo.
In 1999 the Danish baritone received the Veuve Clicquot-prize, and in 2002 he was awarded the prestigious Gladsaxe Music Prize for "the combination of a wonderful stage presence with his natural vocal talent, which is in constant progress." In 2006 he received Holger Bruusgaard Legacy. Palle Knudsen has also been awarded the cross of the order of chivalry by Queen Margrethe II.
OPERA



Bizet, G.
Carmen
Dancaire
Morales
Britten, B.
Albert Herring
Sid
Peter Grimes
Ned Keene
Carl Nielsen
3 Symphony (Sinfonia Espansiva)
Baritone
Debussy, C.
Pelleas et Melisande
Pelleas
Donizetti, G.
L'elisir d'amore
Belcore
Lucia di Lammermoor
Enrico
Glass, P.
Orphee
Orphee
Gounod, C.
Romeo et Juliette
Romeo
Händel, G.F.
Giulio Cesare
Achilla
Partenope
Ormonte
Kunzen, F.L.A.
Holger Danske
Bobul
Lehar, F.
Die lustige Witwe
Danilo
Massenet, J.
Werther
Albert
Mozart, W.A.
Cosi fan tutte
Guglielmo
Die Zauberflöte
Papageno
Don Giovanni
Don Giovanni
Le nozze di Figaro
Count Almaviva
Prokofiev, S.
L'amour des trois oranges
Pantalone
Puccini, G.
La boheme
Marcello
Turandot
Ping
Rossini, G.
Il barbiere di Siviglia
Figaro
Il turco in Italia
Prosdocimo
Il viaggio a Reims
Lord Sidney
La Cenerentola
Dandini
Ruders, P.
Dancer in the Dark
Bill
Strauss, J.
Die Fledermaus
Eisenstein
Strauss, R.
Ariadne auf Naxos
Harlekin
Tchaikovsky, P.I.
Eugene Onegin
Eugene Onegin
Verdi, G.
La traviata
Georgio Germont
Un ballo in maschera
Silvano
CONCERT

Orff, C.
Carmina Burana
Palle Knudsen – Don Giovanni by W.A. Mozart – Opera Tel Aviv
Palle Knudsen – Die Zauberflöte by W.A. Mozart – Papageno's Aria
Palle Knudsen – Don Giovanni by W.A. Mozart – Opera Tel Aviv
Don Giovanni, W.A. Mozart, Theater St Gallen, 10 September 2013