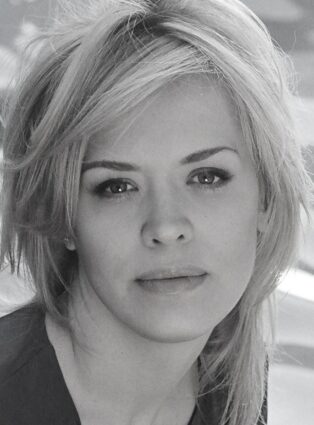 With her vivid stage presence, passionately confident musicianship and extraordinary technique, the striking young Russian pianist Olga Kern has continued to captivate fans and critics alike. As a result of her performance of Sergei Rachmaninoff's Piano Concerto No. 3 at the 11th Van Cliburn International Piano Competition in 2001, Olga Kern won the Gold Medal and became the first woman to achieve this distinction in over 30 years.
This season, Olga will perform all of the Rachmaninoff concerti in residence with the Colorado Symphony, have her debut with the New Jersey Symphony, and perform in several special event concerts with famed soprano Kathleen Battle.  Summer 2009 brought Olga Kern her fourth re-engagement at the Ravinia Festival for Rachmaninoff's Piano Concerto No. 1 with the Chicago Symphony under the baton of James Conlon.  She performed additionally at the Brevard Music Festival, International Keyboard Institute, and gave a recital and master classes in New York City.
Miss Kern's festival appearances are many. In June of 2008, she presented the Inaugural Concert of the Southeastern Piano Festival in Columbia, South Carolina. She is welcomed back frequently to the Interlochen Festival, Bravo! Vail Festival, and the Ravinia Festival with the Chicago Symphony Orchestra and James Conlon, after having made her debut there in 2002 with Christoph Eschenbach. She made her Hollywood Bowl debut in 2005 and returned to the Festival Casals in Puerto Rico in 2007, where she performed to a sold out venue. She has been a recent guest artist at several international music festivals, including the Klavier Ruhr and Kissinger Sommer festivals in Germany, the Radio-France Montpellier and Casadesus festivals in France, the Ohrid Festival in Macedonia, and the Busoni Festival in Italy.
Ms. Kern has performed in many of the world's most important venues, including the Great Hall of the Moscow Conservatory, Symphony Hall in Osaka, Salzburger Festspielhaus, La Scala in Milan, Tonhalle in Zurich, and the Châtelet in Paris; she has appeared as soloist with the Bolshoi Theater, the Moscow Philharmonic, St. Petersburg Symphony, Russian National, China Symphony, Belgrade Philharmonic, La Scala Philharmonic, Torino Symphony, and Cape Town Symphony Orchestras. She has also performed with the Kirov Orchestra under the direction of Valery Gergiev at the Kennedy Center.
Ms. Kern was born into a family of musicians with direct links to Tchaikovsky and Rachmaninoff and began studying piano at the age of five.  Winner of the first Rachmaninoff International Piano Competition when she was seventeen, she is a laureate of eleven international competitions and has toured throughout her native Russia, Europe, and the United States, as well as in Japan, South Africa, and South Korea.  The recipient of an honorary scholarship from the President of Russia in 1996, she is a member of Russia's International Academy of Arts. She began her formal training with acclaimed teacher Evgeny Timakin at the Moscow Central School and continued with Professor Sergei Dorensky at the Moscow Tchaikovsky Conservatory, where she was also a postgraduate student.  She also studied with Boris Petrushansky at the acclaimed Accademia Pianistica Incontri col Maestro in Imola, Italy.
Ms. Kern records exclusively for Harmonia Mundi. Her most recent recording of Brahms Variations was released in September of 2007. Her discography includes recordings of Tchaikovsky Piano Concerto No. 1 with the Rochester Philharmonic Orchestra and Christopher Seaman (2003), a Rachmaninoff recording of Corelli Variations and other transcriptions (2004), a recital disk with works by Rachmaninoff and Balakirev (2005) and Chopin's Piano Concerto No. 1 with the Warsaw Philharmonic and Antoni Wit (2006).
Copy Past repertoire here
Chopin's Polonaise in A-flat major, Op. 53
Wayne Lee Gay, D Magazine
Olin Chism, DFW Star Telegram
Lyn Bronson, Peninsula Reviews
Bryce Morrison, The Gramophone
Ronald Broun, Washington Post
James C. Taylor, Los Angeles Times
Scott Cantrell, Dallas Morning News