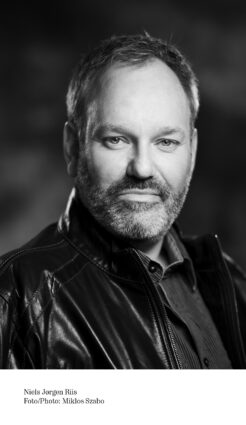 Niels Jørgen Riis was born in 1969 in Denmark. He was admitted into the Opera Academy at the Royal Theatre in 1994. He has attended master classes with Josef Protschka, Werner Hollweg, Håkan Hagegård, Ubaldo Gardini, Vera Rozsa-Nordell, Peter Berné, Oren Brown and Birgit Nilsson.
After his graduation in 1998 he was employed as part of the soloist ensemble at the Royal Opera, Copenhagen.
Recent engagements among others include Bach's Christmas Oratorio with Copenhagen Phil and Copenhagen Royal Chapel Choir, Bohème at Teatro Coccia di Novara, Alfredo/Traviata, Luigi/Tabarro and Leander/Maskerade at Copenhagen Royal Opera House.
Future engagements include the title role in Idomeneo as well as Don José/Carmen at Royal Danish Opera.
At the recent seasons at The Royal Opera Mr. Riis has appeared in Maskerade, Simone Boccanegra as Gabrieleand Lucia di Lammermoor as Edgardo. He perfomed Lenski in Eugene Onegin as well as the title role inIdomeneo, Ismaele in Nabucco and Romeo in Romeo ét Juliette.
At this theatre Niels Jørgen Riis has also performed in a big number of productions such as Der junge Seemann in Tristan und Isolde, Tanzmeister in Ariadne auf Naxos, Steuermann in Der Fliegende Holländer, Fenton in Falstaff, Alfredo in La Traviata, Marcellus in Hamlet, Nemorino in L'elisir d'amore, Tjaplitskij in Pigue Dame, Leander in Maskerade, Cavaliere Belfiore in Il viaggio a Reims, Narraboth in Salome, Edmondo in Manon Lescaut, Werther, Duca in Rigoletto, Rodolfo in La Boheme, Macduff in Macbeth and Alfred in Die Fledermaus.
Niels Jørgen Riis has performed with a number of international recognized conductors such as Bojan Sudjic, Stefan Parkman, Thomas Rösner, Walter Weller, Aldo Ceccato, Tamas Vetö, Børge Wagner, Tobias Ringborg, Moshe Atzmon, Bjarte Engeset, Gerhard Markson, Matthias Aeschbacher, David Riddell, Mats Liljefors, Sian Edwards, Angelo Cavallaro and Bo Holten.
As a concert singer he has appeared in a number of oratorios such as Händel's Messiah, Mozart's Requiem (Bergen Philharmonic Orchestra), Gounod's Cecilia-mass, Nielsen's "Spring in Fuenen" (Danish Radio Symphony Orchestra and Royal Philharmonic Orchestra of Stockholm), Rossini's Petit Messe, Puccini's Missa di Gloria with Trondheim Symphony Orchestra and Verdi's Requiem.
He has received several honors from foundations such as the Edith Allers Mindelegat, Kgl. Kammersanger Holger Bruunsgaards Mindelegat and the Aksel Schiøtz Price.
REPERTOIRE
OPERA 



Beethoven, L.v.
Fidelio
Jaquino
Donizetti, G.
L'elisir d'amore
Nemorino
Lucia di Lammermoor
Edgardo
Gluck, C.W.
Contesa dei numi
Mars
Gounod, C.
Romeo et Juliette
Romeo
Lehar, F.
Die lustige Witwe
Camille de Roussillon
Massenet, J.
Werther
Werther
Mozart, W.A.
Idomeneo
Idomeneo
Nielsen, C.
Maskerade
Leander
Puccini, G.
La boheme
Rodolfo
Manon Lescaut
Edmondo
Rossini, G.
Il viaggio a Reims
Belfiore
Strauss, J.
Die Fledermaus
Alfred
Strauss, R.
Ariadne auf Naxos
The dancing master
Der Rosenkavalier
Der Sänger
Elektra
A young servant
Salome
Narraboth
Tchaikovsky, P.I.
Eugene Onegin
Lensky
Pikovaya dama
Chaplitsky
Verdi, G.
Falstaff
Fenton
La traviata
Alfredo
La traviata
Gastone
Macbeth
Macduff
Nabucco
Ismaele
Rigoletto
Duke of Mantua
Simon Boccanegra
Gabriele Adorno
Wagner, R.
Der fliegende Holländer
Steuermann
Die Meistersinger
Kunz Vogelgesang
Tristan und Isolde
Seemann
CONCERT
Britten, B.
War Requiem
Gounod, C.
Messe solennelle à Sainte Cécile
Händel, G.F.
Messiah
Mendelssohn, F.
Elias
Mozart, W.A.
Requiem
Nielsen, C.
Fynsk forår
Puccini, G.
Messa di Gloria
Rossini, G.
Petite messe solennelle
Verdi, G.
Messa da Requiem