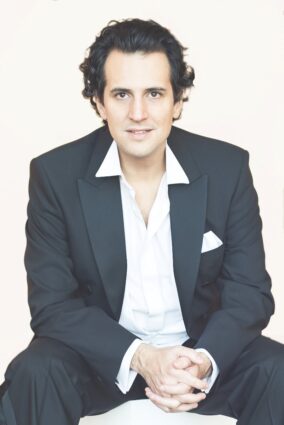 Born in Montevideo, the Uruguayan – Italian tenor Leonardo Ferrando began his studies at Teatro del Centro and Escuela Universitaria de Música, taking thereafter private lessons with Prof. Cecilia Varela in Buenos Aires and Mtro. Jorge Ansorena in Firenze, Italy.
Recently the artist has performed Gérald/Lakmé at Royal Opera House Muscat in Oman, Don Narciso/Il Turco in Italia at Theater Hagen, Don Ramiro/Cenerentola at Theater Coblenz, Petite Messe Sollenelle by Rossini at Fondazione Arena di Verona, Almaviva/Barbiere di Siviglia at Arena di Verona Opera Festival, Ernesto/Don Pasquale at Deutsche Oper am Rhein, La Cenerentola at Teatro Verdi di Trieste, I Puritani and La Cenerentola at Danish National Opera and Lakmé at Malmö Opera.
Future highlights include among others Arturo/I Puritani and Don Ramiro/Cenerentola at Deutsche Oper am Rhein, Don Ramiro/La Cenerentola at Ente Concerti Marialisa de Carolis, Sassari Teatro Comunale as well as Ernesto/Don Pasquale at Smålands Musik & Teater.
Following his European debut in La Cenerentola at Bremen Theater, he specialized in the belcanto repertoire, singing amongst others, Il Barbiere di Siviglia, Le Comte Ory, Linda di Chamounix, L'elisir d'amore, Don Pasquale and I Puritani.
Leonardo Ferrando has performed in some of the most important stages in Aarhus, Bergamo, Berlin, Bremen, Copenhagen, Gießen, Helsinki, Innsbruck, Lucca, Malmö, Odense, Toulon, Trieste, Würzburg, Buenos Aires, Montevideo, Sao Paulo, working for recognized stage directors like Michael Hampe, Peer Boysen, Robert Carsen, Nicola Raab, Irina Brook, Annilese Miskimmon,  Fabio Sparvoli.
Role highlights include Almaviva, Don Ramiro, Comte Ory, Ernesto (Don Pasquale), Nemorino, Arturo (I Puritani), Orombello (Beatrice di Tenda), Tamino, Ferrando, Don Ottavio, Arbace (Idomeneo), Gérald (Lakmé), as well as leading tenor roles in "rare belcanto operas".
REPERTOIRE
Opera



Bellini, V.
Beatrice di Tenda
Orombello
I Puritani
Lord Arturo Talbo
Delibes, L
Lakme
Gérald
Donizetti, G.
Don Pasquale
Ernesto
L'elisir d'amore
Nemorino
Linda di Chamounix
Carlo
Leoncavallo, R.
Pagliacci
Beppe
Mozart, W.A.
Cosi fan tutte
Ferrando
Die Zauberflöte
Tamino
Don Giovanni
Don Ottavio
Idomeneo
Arbace
Pacini, G.
Maria, Regina d'Inghilterra
Fenimoore
Rossini, G.
Guillaume Tell
Ruodi
Il barbiere di Siviglia
Count Almaviva
La Cenerentola
Don Ramiro
Le comte Ory
Comte Ory
CONCERT
Beethoven, L.v.
Symphony Nº 9
Mozart, W.A.
Mass in D minor K 427
Requiem in D minor K 626
Leonardo Ferrando – La Cenerentola by G. Rossini – Si, ritrovarla io giuro!
Leonardo Ferrando – La Cenerentola by G.Rossini – I° atto "un soave non so che…"
Helmut Christian Mayer, Opernnetz, April 2016
Paolo Bullo, Il Piccolo, December 2015