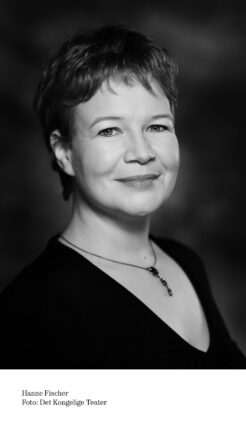 Hanne Fischer, Knight of the Dannebrog is a much sought-Danish mezzo soprano both at home, where she frequently performs at Royal Danish Opera – as well as abroad. Her strong presence of expression is often highlighted. Her role interpretations range from baroque, through Wagner, to contemporary music.
RECENT AND FUTURE ENGAGEMENTS
Recent engagements at The Royal Danish Opera, Copenhagen include among others:
Annina/La Traviata;
Nancy T'ang/Nixon in China;
Brangäne/Tristan und Isolde.
Future highlights include among others:
Serena Joy/The Handmaid's Tale at The Royal Danish Opera.
Past engagements of Hanne Fischer in the recent years include Sister Helen Prejean in Dead Man Walking at the Opera in Copenhagen (she has received a great amount of star reviews), Waltraute in the concert performance of Götterdämmerung in Odense, under the direction of Alexander Vedernikov and Blanca/The Exterminating Angel at Royal Danish Opera, København in 2018.
At the Royal Opera House Copenhagen, she has performedmany roles, such as  The composer in Ariadne auf Naxos, Melibea in Journey to Reims, Charlotte in Werther, Penelope in Odysseus, Ottavia in Poppea's Coronation and La Frugola in Puccini's Il Tabarro and also Carmen.
During the period 1993-1997 Hanne Fischer was part of the ensemble at Opera Kiel. She also performed at Glyndebourne Festival in England, at Staatsoper Berlin, Hamburger Staatsoper, Opera in Antwerp and Ghent and at Theatre de Champs-Elysee.
Since 2005, when the Royal Danish Opera inaugurated it's new waterside Opera House in Copenhagen, she was among the first performers in the world premiere of Shakespeare's Sonnets, composed by Poul Ruders and dedicated to Hanne Fischer.
After her success as Fricka in Wagner's Das Rheingold and Valkyrie in Strasbourg, Hanne Fischer debuted in 2011 as Waltraute in Wagner's Götterdämmerung under the direction of David McVicar. She received great critical acclaim from international opera magazines, who all praised her unique voice character with poignant expression abilities and also her strong role interpretation.
As a concert singer Ms. Fischer has performed with all major Danish Orchestras and internationally in the big concert halls in Amsterdam, München, Berlin, Paris and London.  In 2009, on the 60th birthday of the European Council, she performed Mahler's 3rd Symphony under the direction of Marc Albrecht. She has performed also with many other grat conductors, such as Daniel Barenboim, Andrew Davis, Mark Elder, Marko Letonja, Mark Minkowski, Giancarlo Andretta, Hartmut Haenchen, Manfred Honeck, Michael Jurowski, Ton Koopman, Susanna Mälkki, Leif Segerstam, Michael Schönwandt, Yuri Temirkanov, Alexander Vedernikov, Carlo Rizzi, and Kirill Petrenko.
Her discography includes CD's with The Danish Radio Symphony Orchestra and Berlin Radio Symphony Orchestra (Lehar's Tatjana) and Aalborg Symphony Orchestra.  She also performs Verdi's Requeim in a recording of Trinitatis Kantori og Orkester.
On DVD she performs at the production of Wagner's Ring, Carl Nielsen's Masquerade and also Selma Jezkova (Dancer in the Dark) by Poul Ruders.
Ms. Fischer has received numerous awards and prizes including the Noilly Prat Price in 1993, Elisabeth Dons Memorial Award in 1995, Danish Music Critics Artist Award in 2004, Holger Bruusgaards Award of the Royal Orchestra in 2007 and Axel Schiøtz Award in 2010. She has been many times nominated for the Reumert award with her performances of Sextus in Mozar's Titus, Orpheus in Orpheus and Eurydice and Händel's Jephta. In 2014 she received the Ellen Gilbergs scholarship.
OPERA

Delius, F.
A Village Romeo and Juliet
Wild girl
Gluck, C.W.
Orfeo ed Euridice
Orfeo
Gounod, C.
Faust
Siebel
Humperdinck, E.
Hänsel und Gretel
Hänsel
Janacek, L.
The Cunning Little Vixen
the fox
Korngold, E.W.
Die tote Stadt
Lucienne
Lehar, F.
Tatjana
Raisa
Ligeti, G.
Le grand macabre
Amando (Spermando)
Massenet, J.
Werther
Charlotte
Monteverdi, C.
Il ritorno d'Ulisse in patria
Penelope
L'incoronazione di Poppea
Ottavia
Mozart, W.A.
Cosi fan tutte
Dorabella
Die Zauberflöte
Zweite Dame
Don Giovanni
Zerlina
Idomeneo
Idamante
La clemenza di Tito
Annio
Sesto
Le nozze di Figaro
Cherubino
Nielsen, C.
Maskerade
Pernille
Offenbach, J.
La Perichole
La Perichole
Les contes d'Hoffmann
The Voice
Nicklausse
Prokofiev, S.
L'amour des trois oranges
Smeraldina
Puccini, G.
Madama Butterfly
Suzuki
Rossini, G.
Il viaggio a Reims
Marchesa Melibea
La Cenerentola
Angelina (Cenerentola)
Le comte Ory
Isolier
Ruders, P.
Kafka's Trial
Washer Woman
Hunchback
The Handmaid's Tale
Offred's double
Schönberg, A.
Moses und Aron
Solostimme II
3. Jungfrau
Strauss, R.
Ariadne auf Naxos
The composer
Der Rosenkavalier
Octavian
Salome
Page
Tchaikovsky, P.I.
Pikovaya dama
Polina
Wagner, R.
Das Rheingold
Flosshilde
Fricka
Die Walküre
Waltraute
Fricka
Götterdämmerung
Second Norn
Waltraute
CONCERT

Bach, J.S.
Johannes-Passion
Magnificat
Matthäus-Passion
Weihnachtsoratorium
Beethoven, L.v.
C major Mass
Symphony no. 9
Berlioz, H.
Les nuits d'ete
Britten, B.
The Rescue of Penelope
Duruflé, M.
Requiem
Dvorak, A.
Requiem
Stabat Mater
Gade, N.W.
Elverskud
Händel, G.F.
Messiah
Haydn, J.
Harmoniemesse
Langgaard, R.
Sfærernes Musik
Mahler, G.
Das Lied von der Erde
Des Knaben Wunderhorn
Kindertotenlieder
Rückert-Lieder
Mozart, W.A.
Alma grande e nobil core
Ch'io mi scordi di te?
Coronation Mass
Requiem
Vesperale solennes de confessores
Nordby, E.
Rilke-Lieder
Pape, A.
Vølvens spådom
Rosing-Schow, N.
Archipel des Solitudes
Rossini, G.
Petite messe solennelle
Stabat Mater
Ruders, P.
Shakespeare Songs
Schumann, R.
Des Sängers Fluch
Vom Pagen und der Königstochter
Sibelius, J.
Orchestral Lieder
The Tempest
Vivaldi, A.
Gloria
Hanne Fischer – Götterdämmerung by R. Wagner – Höre mit Sinn
Götterdämmerung at Opéra national du Rhin, Strasbourg – February 2011
Götterdämmerung at Opéra national du Rhin, Strasbourg – February 2011
Götterdämmerung at Opéra national du Rhin, Strasbourg – February 2011