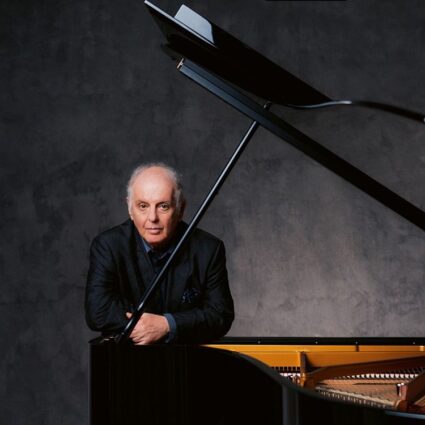 Daniel Barenboim is one of the few musicians in the world today who could accurately be described as legendary.
RECENT AND FUTURE ENGAGEMENTS
Barenboim is the current general music director of the Berlin State Opera and the Staatskapelle Berlin.
His most recent and future engagements during Season 20/21 are (among others):
Quartett by Luca Francesconi and Beethoven concerts at Staatsoper Unter den Linden;
concerts with Vienna Philharmonic at Staatsoper Unter den Linden;
Boulez Ensemble XXX at Pierre Boulez Saal, Berlin;
a Smetana concert with Berliner Philharmoniker;
concerts with Philharmonie de Paris;
concerts at Rudolf Firkušný Piano Festival.
Daniel Barenboim was born in Buenos Aires in 1942 to parents of Jewish Russian descent. He started piano lessons at the age of five with his mother, continuing to study with his father who remained his only other teacher. In August 1950, when he was only seven years old, he gave his first official concert in Buenos Aires.
Barenboim made his debut as a pianist in Vienna and Rome in 1952, in Paris in 1955, in London in 1956 and in New York in 1957 with Leopold Stokowski and the Symphony of the Air. From then on, he made annual concert tours of the United States and Europe. He toured Australia in 1958 and soon became known as one of the most versatile pianists of his generation.
He made his first gramophone recordings in 1954 and soon began recording the most important works in the piano repertoire, including complete piano sonatas cycles of Mozart and Beethoven and concerto cycles of Mozart, Beethoven (with Otto  Klemperer), Brahms (with Sir John Barbirolli) and Bartók (with Pierre Boulez). Over the years Barenboim has recorded for Westminster, EMI, Deutsche Grammophon, Decca, Philips, Sony Classical (CBS Masterworks), BMG, Erato Disques and Teldec Classics International. He has won multiple Grammy Awards over the years.
During the same period, Barenboim began to devote more time to conducting. His close relationship with the English Chamber Orchestra which began in 1965 lasted over a decade. During this time they performed frequently in England with Barenboim as both conductor and piano soloist and went on tour in Europe, the United States, Japan, Australia and New Zealand. Following his conducting début with the New Philharmonia Orchestra in London in 1967, Barenboim began to conduct all the leading European and American symphony orchestras. Between 1975 and 1989 he was Music Director of the Orchestre de Paris, his tenure marked by a commitment to contemporary music including works by Lutoslawski, Berio, Boulez, Henze, Dutilleux, Takemitsu and others.
Barenboim is named "our honorary conductor for life" by the musicians in Chicago Symphony Orchestra. In 1992 he became General Music Director of the Deutsche Staatsoper Berlin (German State Opera Berlin). In the autumn of 2000, the Staatskapelle Berlin appointed him Chief Conductor for Life.
In November 2002 he was awarded the Tolerance Prize by the Protestant Academy of Tutzing, in southwestern Germany, for his efforts to bring Palestinians and Israelis together through music. The same month, the president of Germany awarded Mr. Barenboim the Grosses Bundesverdienstkreuz, the highest honor given to someone who is not a head of state. In 2004, Mr. Barenboim received the Buber-Rosenzweig Medal, the Wolf Prize for the Arts in the Knesset in Jerusalem and the Haviva Reik Peace Award. In 2005, he won the Special Ambassador of Music Prize of Echo Klassik and was named the 2006 Charles Eliot Norton Professor of Poetry at Harvard University where he delivered six lectures in autumn 2006. Also in 2006, Daniel Barenboim won the Kulturgroschen award, the Peace Prize from the Korn and Gerstenmann Foundation and the Music Prize of the Ernst von Siemens Music Foundation.
In 2007, Daniel Barenboim was awarded the Goethe Medal by the Goethe Institute and was given an Honorary Doctorate of Music degree by Oxford University; he was named Commandeur de la légion d'honneur by the French President Jacques Chirac and received the Praemium Imperiale award in Japan. United Nations Secretary General Ban Ki Moon named Barenboim United Nations Messenger of Peace in September 2007. In the same year, he was also awarded the Royal Philharmonic Society Gold Medal, one of the most prestigious honors in classical music. In May 2008, he became an honorary citizen of the city of Buenos Aires (ciudadano ilustre), and in February 2009, he was awarded the Moses Mendelssohn Medal for his contribution to tolerance and international understanding.
In 2011 he began tenure as La Scala Music Director and received Willy-Brandt-Prize, recognizing achievements in increasing international understanding. Barenboim was made Honorary Knight Commander of the Most Excellent Order of the British Empire (KBE).
In 2012 he carried the Olympic flag at London Olympics Opening Ceremony and published a book titled "La musica è un tutto: Etica ed estetica" (Music as a Whole: Ethics and Aesthetics).
In 2014 he performed at the New Year's concert with Vienna Philharmonic and conducted a West-Eastern Divan Orchestra debut in United Arab Emirates.
In 2015  he topped out ceremony of Barenboim-Said Akademie in Berlin, featuring Pierre Boulez Hall designed by Frank Gehry, and offering a degree-conferring program in music and humanities to young musicians from the Middle East invited on scholarship. The artists designed a new piano featuring parallel strings for Schubert sonata cycles with Belgian instrument maker Chris Maene and support from Steinway & Sons.
Daniel Barenboim was named one of "The World's 50 Greatest Leaders" by Fortune Magazine.
Daniel Barenboim – Minutes On… Brahms – Piano Concerto No.1 (D minor)
The Frost Interview – Daniel Barenboim: 'Spaces of dialogue'
Der Ring des Nibelungen at Staatsoper Berlin – Oct. 2019